SEE EARLY BIRD PRICING BELOW

Transforming & Elevating Your Money DNA | Walt Disney World November 5th -8th, 2023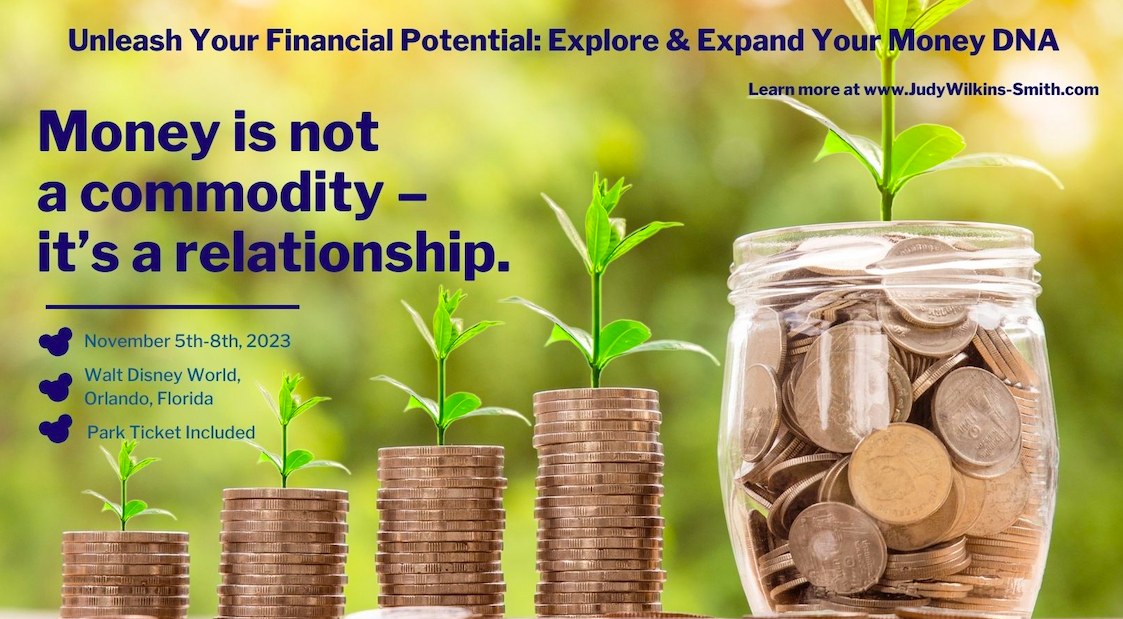 "What if we were taught from a very young age that wealth, progress, and prosperity are what eliminate poverty and human suffering and that making money is not some sort of spiritual defect but in fact (one of) the highest form(s) of contribution?"
-John Butcher
This 4-Day Themed Intensive is for anyone choosing to live a fuller life and expand money bandwidth.  If you are ready to transform your life join us at the Beach and Yacht Club in the luxury section of Disney World created by Walt Disney who moved through his own limitations and defeats to create something incredible.
What's included:
–        Walt Disney World Park Tickets for the four days of the program
–        4 days of experiential learning
–        Breakout sessions to deepen your understanding
–        A written manual to guide your learning and take with you for reference later
–        Transportation to and from the parks
–        Access to the International Food and Wine Festival
–        Daily full breakfast
–        Daily deluxe snacks (Which can often double for lunch)
–        Daily surprises to help you enjoy the magic of Disney
VIP Everyone who attends must stay onsite at the Beach Club. Room sharing is allowed.
Elevating your Money Mindset: exploring and expanding your Money DNA
Money is not a commodity – it's a relationship.  Your relationship with money determines how much you can or can't, will or won't have. And that relationship began way back sometimes even before you were born. You just inherited its themes and then repeated them. The whole world is in relationship with money. Frequently in disappointing ways because we fear it instead of embracing it as a friend. 
We go against our very human nature which is to want in order to expand, which furthers humanity. Yet we fail to want when it comes to money. In fact, we are taught the opposite. 
We miss the very fact that money is a benefactor. In order to accumulate wealth we often have to invest in our financial education and professional development and growth. We certainly don't thank money for our self-development and yet it is the driver. Our mechanism of exchange is work for money.
We are taught that; 'It's either love or money.', and 'Only greedy people have it.  Yet occasionally we hear a quiet whisper that says: "What if it's entirely possible to have a good heart and a full pocket?" 
Money is flow and an enabler, yet we do not give it a place in our hearts because we have been taught that it's not allowed to belong there. Getting to the next level begins with changing the way you relate to money and that begins with understanding your money bandwidth and DNA.
At our Money events, we teach you how to befriend and embrace the flow of money in ways that grow your pocket and your soul. And what you learn with money applies to just about every other area of your life.  
Participants who attend our money DNA events walk away with a deeper understanding of themselves, their relationship with money, and their potential for financial growth. Many report having their best financial year ever. Most report a marked improvement in their relationship with it, as well as a sense of adventure and empowerment. They learn that money is a friend, not an enemy.
VIP Everyone who attends must stay onsite at the Beach Club. Room sharing is allowed ( they have to stay onsite so we meet the minimum number of rooms occupied in order to be able to get the conference space.)
Class particulars
Start time 8 am breakfast 9 am class – 4-5 pm – some days will differ
Final day ends at 4 pm
4-Day Park Ticket Included: attendance starts at the conclusion of each day.
The event is at the Saybrook room at the Yacht Club. Participants simply walk over from one side to the other
There will be lunch breaks
Park attendance is after class ends.
Anyone wishing to stay longer should consider staying at Swan and Dolphin for the extra nights. It is right next door.
Early Bird Price if Registered by March 31st: $1695 – Use Code: DIS1695
Discounted Price if Registered by May 31st: $1795 – Use Code: DIS1795
Discounted Price if Registered by June 30th: $1895 – Use Code: DIS1895
Invite your friends, family, and colleagues. There is a $100 'Referral Thank-You' provided at the course for each of the participants that you invite who attend the same workshop. Each person pays the registration fee at the time of his/her registration and the $100/person referral reimbursement will be given to the referring person (you) at the workshop.
–       Ask Judy about the Platinum Preferred Discount Program for attending multiple events.